Behler Turtle Conservation Award: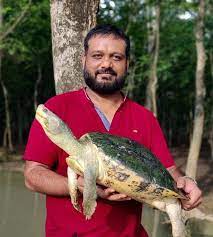 Indian biologist Shailendra Singh has been awarded the Behler Turtle Conservation Award for bringing three critically endangered turtle conservation species back from the brink of extinction.
There are 29 species of freshwater turtles and tortoises in the country.
About Behler Turtle Conservation Award:
Established in 2006, it is a major annual international award honoring excellence in the field of tortoise and freshwater turtle conservation and biology, and leadership in the chelonian conservation and biology community.
Also referred to as the "Nobel Prize" of Turtle Conservation.
Co-presented by Turtle Survival Alliance (TSA), IUCN Tortoise and Freshwater Turtle Specialist Group, Turtle Conservancy, and Turtle Conservation Fund.
In the present context, the three critically endangered turtles are being conserved as a part of TSA India's research, conservation breeding and education programme in different parts of the country.

The Northern River Terrapin (Batagur baska) is being conserved at the Sunderbans;
The Red-crowned Roofed Turtle (Batagur kachuga) at Chambal;
The Black Softshell Turtle (Nilssonia nigricans) at different temples in Assam.