International Lunar Research Station (ILRS):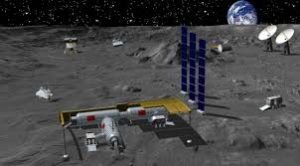 China and Russia have agreed to build an International Lunar Research Station (ILRS), possibly on the moon's surface, marking the start of a new era in space cooperation between the two countries.
Russia is a part of the International Space Station which is a habitable artificial satellite – the single largest man-made structure in low earth orbit.
International Lunar Research Station (ILRS):
The ILRS is a comprehensive scientific experiment base with the capability of long-term autonomous operation.
The station would be built on the lunar surface and/or on the lunar orbit that would carry out scientific research activities such as the lunar exploration and utilization, lunar-based observation, basic scientific experiment, and technical verification.
Russia and China will adhere to the principle of co-consultation, joint construction, and shared benefits.
They will facilitate extensive cooperation in the ILRS, open to all interested countries and international partners.
ILRS will strengthen scientific research exchanges, and promote humanity's exploration and use of outer space for peaceful purposes.