Invasive Weeds: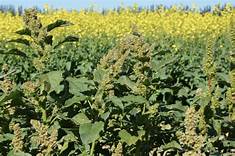 A Vitamin D3-rich weed and a shrub with roots that wild boars love to gorge on are among the 18 invasive plants stifling the Kaziranga National Park and Tiger Reserve, the best-known address of the greater one-horned rhinoceros on the Earth.
The list released by the Wildlife Institute of India (WII) did not contain the "usual culprits" of many protected areas in India – parthenium and lantana that threaten more than 40% of India's tiger reserves, according to a global study in 2020.
It did mention ipomoea (Ipomoea carnea) and mimosa (Mimosa himalaica) but marked them as largely controlled and not much of a worry now.
Parthenium (Parthenium hysterophorus) is believed to have come to India as contaminants in a consignment of wheat imported from the U.S. in the 1950s while lantana (Lantana camara) was brought by the British as ornamental plants from South America two centuries ago.
Some weeds have herbal properties, but their toxicity outweighs their utility.
For instance, wild boars love to gorge on the succulent rootlets of the Leea macrophylla or 'kukura thengia' that is fast clogging the patrolling paths and grasslands.
Another one is the Cestrum diurnum or day-blooming jasmine of West Indies origin "coming up gregariously" on the Brahmaputra sandbars.
The plant is otherwise a source of Vitamin D3.