Performance Grading Index For Districts (PGI-D):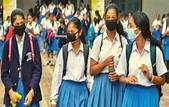 The Department of School Education and Literacy (DoSE&L), Ministry of Education (MoE) released the Centre's first-ever Performance Grading Index for Districts (PGI-D) for 2018-19 and 2019-20.
In June, 2021, the Union Education Minister has approved the release of Performance Grading Index (PGI) 2019-20 for States and Union Territories.
PGI-D assesses the performance of the school education system at the district level by creating an index for comprehensive analysis.
The PGI-D assessed district-level performance in school education based on the data collected from various sources, including Unified District Information System for Education Plus (UDISE +), National Achievement Survey (NAS), 2017 and data provided by respective districts.
Key Highlights of the Report:
Best Performers:
Three districts from Rajasthan performed the best in the assessment.
According to the report, the three districts — Sikar, Jhunjhunu, and Jaipur figured in 'Utkarsh' grade in 2019-20 in contrast to a year before when no district featured in that category.
Rajasthan has the highest 24 districts in this grade, followed by Punjab (14), Gujarat (13), and Kerala (13).
Lowest Performers:
The districts with the lowest scores (1 out of 50) in this category were:

South Salmara-Mankachar (Assam), Alirajpur (Madhya Pradesh), North Garo Hills and South Garo Hills in Meghalaya, and Khowai (Tripura) in 2019-20.
The 12 states/ UTs which don't have a single district in the Ati-Uttam and Uttam are:

Bihar, Goa, Jammu and Kashmir, Arunachal Pradesh, Manipur, Meghalaya, Mizoram, Nagaland, Sikkim, Tripura and Uttarakhand.