Jallianwala Bagh Massacre : 103 Years Of The Incident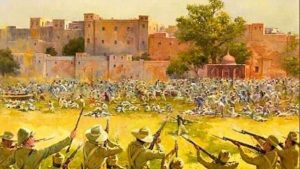 The Prime Minister paid tributes to people killed in the Jallianwala Bagh massacre in 1919.
He asserted that their unparalleled courage and sacrifice will keep motivating the coming generations. 13th April, 2022 marks the 103 years of the incident.
Earlier, the Gujarat government marked 100 years of the Pal-Dadhvav killings, calling it a massacre "bigger than the Jallianwala Bagh".
The Jallianwala Bagh massacre or the Amritsar massacre of 13th April 1919 accounts for the gruesome execution of hundreds of innocent people by the Gurkha British Indian army on the orders of the then Anglo-Indian Brigadier R.E.H. Dyer.
These people were protesting peacefully against the Rowlatt Act 1919.
Mahatma Gandhi wanted non-violent civil disobedience against such unjust laws, which would start with a hartal on 6th April 1919.
In Punjab, on 9th April 1919, two nationalist leaders, Saifuddin Kitchlew and Dr. Satyapal, were arrested by the British officials without any provocation except that they had addressed protest meetings, and taken to some unknown destination.
This caused resentment among the Indian protestors who came out in thousands on 10th April to show their solidarity with their leaders.
To curb any future protest, the government put martial law in place and law and order in Punjab was handed over to Brigadier-General Dyer.
On 13th April, Baisakhi day, a large crowd of people mostly from neighbouring villages, unaware of the prohibitory orders in Amritsar gathered in the Jallianwala Bagh.
Brigadier-General Dyer arrived on the scene with his men.
The troops surrounded the gathering under orders from General Dyer and blocked the only exit point and opened fire on the unarmed crowd killing more than 1000 unarmed men, women, and children.