102 Years Of The Jallianwala Bagh Tragedy: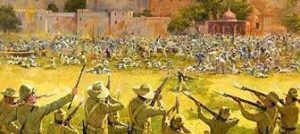 The Prime Minister of India commemorated 102 years of the Jallianwala Bagh tragedy that took the lives of hundreds of innocent Indians.
Recently, on the occasion of 130th Foundation Day of the National Archives of India, an exhibition "Jallianwala Bagh" was inaugurated, to mark the Jallianwala Bagh massacre centenary.
About:
The Jallianwala Bagh massacre took place on 13th April 1919 in Amritsar, Punjab.
The tragedy, also known as the Massacre of Amritsar exposed the inhuman approach of the British when the British troops under General Reginald Edward Dyer opened fire into an unarmed crowd.
The massacre of April 1919 wasn't an isolated incident, rather an incident that happened with a multitude of factors working in the background.
During World War I (1914–18) the British government of India enacted a series of repressive emergency powers that were intended to combat subversive activities.
The Anarchical and Revolutionary Crimes Act of 1919 popularly known as the Rowlatt Act (Black Act) which was passed on 10th March 1919, authorized the government to imprison or confine, without a trial, any person associated with seditious activities which led to nationwide unrest.
On 13th April 1919, a crowd of at least 10,000 men, women, and children gathered in Jallianwala Bagh to request the release of Dr. Saifuddin Kitchlew and Dr. Satyapal.
The two prominent leaders who were a symbol of Hindu-Muslim unity, organised a peaceful protest against the Rowlatt act. They were arrested and taken out of the city.
Brigadier-General Dyer on hearing about the meeting deployed his troops and ordered them to open fire. The only exit to the park was sealed and indiscriminate firing took place killing hundreds of innocent civilians.