Olive Crown Awards: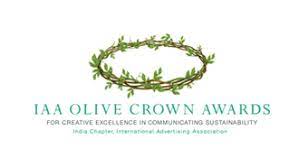 The India Chapter of the International Advertising Association (IAA) hosted the 13th edition of its annual property, the Olive Crown Awards 2023, on 5th April at the ITC Grand Central, Parel, Mumbai.
The awards acknowledged the work of those individuals and corporates who drove the message of sustainability or 'green advertising'.
Famous Innovations bagged 10 awards across categories including the: 'Green Agency Of The Year'; 'Corporate Crusader Of The Year' was awarded to Kirloskar – Limitless for their work 'A Minute For Nature';'Green Campaign of the Year'- Gold went to Livpure – for 'Rally for rivers'; Kirloskar -Limitless won the 'Green Brand of the Year'- Gold, for their work 'Powered by nature' Centrick Marketing Solutions LLP.
Furthermore, the awards were presented across 17 different categories, including the title 'Green Crusader of the Year' award, which was presented to P N Mohan for his vision and commitment to restore lakes, dedication in mobilizing people and funds for this cause, for his single-minded focus that led to seven lakes (near Chennai) coming back to life.