Ayesha Malik: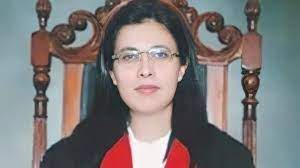 In a historic moment for Pakistan's judiciary, Lahore High Court's Justice Ayesha Malik was sworn in as the Supreme Court's first female judge
The swearing in of the first female judge of Pakistan's highest court – which was established in 1956 – is noteworthy.
Compare this to India, where the Supreme Court (established in 1950) currently has four female judges out of a total of 34.
Three of them were appointed in September 2021 and one of them, Justice BV Nagarathna could possibly become India's first female Chief Justice in 2027.
India's first female judge Justice Fathima Beevi was appointed in 1989.