Kamakhya Temple Corridor: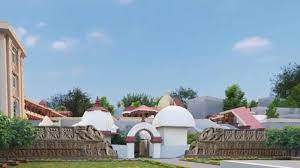 The government in Assam is planning to construct a corridor at the Kamakhya Temple in Guwahati on the lines of the Kashi-Vishwanath Temple Corridor in Varanasi.
The project will transform the grandeur of this major 'shakti peeth' significantly while also improving the accessibility for differently abled and aged devotees and tourists manifold.
Kamakhya Temple is Located on Nilachal Hill in Guwahati, Assam
It is Considered one of the oldest and sacred places of worship.
Millions of pilgrims and tourists visit the temple every year, especially during the Ambubachi Mela held in June every year.
Ambubachi Mela, is a four-day fair to mark the annual menstruation of the goddess
One of 51 shaktipeeths or seat of Shakti followers, each representing a body part of Sati, Lord Shiva's companion. The temple's sanctum sanctorum houses the yoni — female genital — symbolised by a rock.
The attainment of womanhood of girls in Assam is celebrated with a ritual called 'Tuloni Biya', meaning small wedding.
A centrepiece of Tantrik Shaktism cult in India
The main temple is surrounded by individual temples dedicated to the ten Mahavidyas: Kali, Tara, Sodashi, Bhuvaneshwari, Bhairavi, Chhinnamasta, Dhumavati, Bagalamukhi, Matangi and Kamalatmika.