Kanya Shiksha Pravesh Utsav Scheme: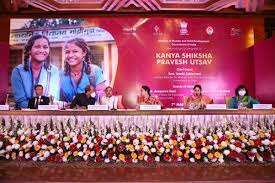 On the eve of International Women's Day, the Ministry of Women and Child Development has launched 'Kanya Shiksha Pravesh Utsav' scheme to bring back the out-of-school girls back to the education system.
Key features of the scheme:
Launched by the Women and Child Development Ministry in partnership with the Education Ministry.
This scheme will fulfil the target of Right To Education act that says to bring out-of-school girls back to the education system.
While female enrolment has increased rapidly since the 1990s, there is still a substantial gap in upper primary and secondary schooling.

High drop-out rates: Increased female enrolment is, compromised by persistently high rates of drop-out and poor attendance of girls relative to boys.

Girls also constitute a large proportion of out-of-school children.

There are also considerable inter-state variations in gender parity.

While the greatest surges in female enrolment have been achieved in the most educationally disadvantaged states such as Bihar and Rajasthan, these states still have a long way to go to catch up with the better performing states of Kerala, Tamil Nadu and Himachal Pradesh.

Some studies suggest that girls are over-represented in the government schools, demonstrating continuing son preference where boys (highlighted in economic survey 2018) are educated in private and better schools which are of (perceived) better quality.