Kaushambi Mahotsav-2023: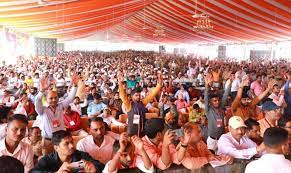 The Union Home Minister inaugurated the Kaushambi Mahotsav-2023 and paid tribute to Durga Bhabhi.
Kaushambi Mahotsav-2023 is a sports festival.
It is organized by the Member of Parliament.
These Khel Mahotsavs give platforms to young players to showcase their talent
About 16000 youths online applied to participate in the 'Sansad Khelkood Spardha'
Sansad Khelkood Spardha: started by the Members of Parliament.
Durga Bhabhi:-
Durga Devi was a freedom fighter from Kaushambi.
She was fondly called 'Durga Bhabhi'.
She was an active member of the Naujawan Bharat Sabha.
On 8 October 1930, she fired on a British sergeant and his wife near the police station in South Bombay's Lamington Road, before escaping.
The shooting was to avenge the death sentence awarded to Bhagat Singh, Sukhdev and Rajguru.
she opened a school in Lucknow for poor children.