Loknayak Jayaprakash Narayan Birth Anniversary: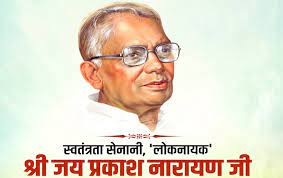 The Prime Minister of India has paid tributes to Loknayak Jayaprakash Narayan on his birth anniversary.
Jayaprakash Narayan born on 11th October 1902, in Sitabdiara, Bihar, popularly referred to as JP or Lok Nayak (People's Leader), was an Indian Independence activist, social reformer and political leader.
Influenced by both Marxist ideas in the US and Gandhian ideology.
Joined the Indian National Congress in 1929 and participated in the civil disobedience movement and Quit India Movement.
Devoted his life to the Bhoodan Yajna Movement, advocating land redistribution to the landless, inspired by Vinoba Bhave.
He led the movement against the Indira Gandhi Regime in response to electoral law violations, promoting a program of 'Sampoorna Kranti' or total revolution in 1974.
The 'Total Revolution' had seven components: political, social, economic, cultural, ideological, educational, and spiritual.
His objective was to bring about societal change in line with the ideals of Sarvodaya, a Gandhian philosophy emphasizing progress for all.
Jayaprakash Narayan was posthumously awarded the Bharat Ratna in 1999. Died: 8th October, 1979.