Asian Games 2023 : India's Medals Tally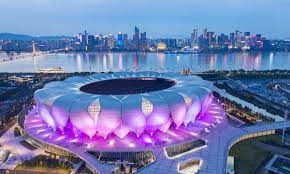 The 19th Asian Games (of 2022, held in 2023) came to a close at the Hangzhou Olympic Sports Centre Stadium (also called Big Lotus) in China. Hockey player PR Sreejesh was India's flagbearer at the parade of athletes.
India's Medals Tally:
With 107 medals (28 gold, 38 silvers and 41 bronze), India set a new benchmark for themselves at the Asian Games 2023 in Hangzhou, the People's Republic of China.
At the 2018 Asian Games in Jakarta, India performed well and returned with 70 medals, including a haul of 16 gold medals.
It was the first time in Asian Games history that India's medals tally crossed the three-figure mark. By doing so, they became the only fourth country after China (383), Japan (188) and the Republic of Korea (190) to win 100 or more medals in a single edition of the Asian Games.
Athletics turned out to be the most productive sport with a total of 29 medals – six gold, 14 silver and nine bronze.
Hockey:
The India men's hockey team won an Asian Games gold and booked a Paris Olympics berth with a 5-1 thrashing of Japan.