Acharya Vinoba Bhave Birth Anniversary: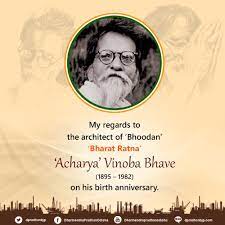 The Prime Minister of India paid homage to Acharya Vinoba Bhave on his birth anniversary.
Vinayak Narahari Bhave was born on September 11, 1895, in Gagode, Bombay Presidency (Maharashtra).
Vinoba Bhave was a prominent nonviolence activist, freedom fighter, social reformer, and spiritual teacher who followed Mahatma Gandhi's principles of non-violence and equality.
He was the inaugural recipient of the international Ramon Magsaysay Award for Community Leadership in 1958 and posthumously received the Bharat Ratna in 1983.
He actively participated in the non-cooperation movement and encouraged the use of Khadi.
Vinoba worked to eradicate social inequalities and championed the cause of Harijans (Dalits).
He initiated the Sarvodaya movement, which included the Bhoodan (Gift of the Land) Movement.