Long-Tailed Duck Species : Spotted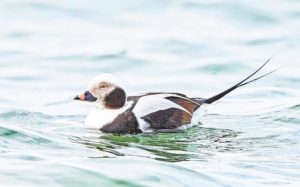 Long-tailed duck species have been spotted at the iconic Wular Lake, Kashmir after 116 years.
The attractive Long-tailed Duck breeds in the high Arctic and spends winters mostly along ocean coasts.
They are amazing divers—able to swim down as deep as 200 feet to forage.
Unlike other ducks, Long-tailed Ducks do not use their feet to propel their dives, but they flap with partially opened wings.
It is one of the species to which the Agreement on the Conservation of African-Eurasian Migratory Waterbirds (AEWA)
Conservation Status
Wular Lake : Wular Lake is one of the largest freshwater lakes in Asia. It is located in the Bandipora district in Jammu and Kashmir.
The lake basin was formed as a result of tectonic activityand is fed by the Jhelum River.
The Tulbul Projectis a "navigation lock-cum-control structure" at the mouth of Wular Lake
It is designated as the Ramsar site.