World Happiness Report 2023 : India's Ranking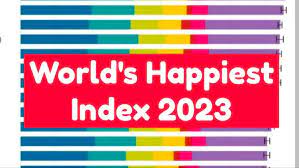 India has been ranked at the 126th place among 146 countries in the recently released World Happiness Report.
Highlights of World Happiness Report 2023:
Finland has been named the happiest country in the world for the sixth consecutive year.
India is ranked 126, ten places higher than its ranking of 136 in 2022. It remains below most neighboring counties, including Pakistan (108) and Sri Lanka (112).
World Happiness Report:
It is an annual publication of the United Nations Sustainable Development Solutions Network (SDSN).
It is based on global survey data from people in more than 150 countries.
It is based on people's own assessment of their happiness, as well as economic and social data.
The report considers six key factors: social support, income, health, freedom, generosity, and absence of corruption.
It assigns a happiness score based on an average of data over a three-year period.