Remains Of Dinosaurs Species: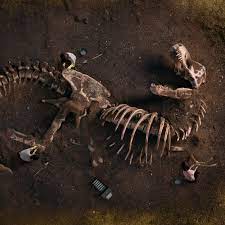 Scientists have found the remains of four species of dinosaurs, including a megaraptor, in an inhospitable valley in Chilean Patagonia for the first time.
Megaraptor was a large theropod of the Cretaceous Period, 84 to 65 mya.
Megaraptors possessed strong arms that wielded sickle-like claws that could inflict fatal wounds on prey, along with a more lightly built skull and jaws studded with smaller teeth.
They also had air-filled, bird-like bones.
Megaraptor was about 25–26 feet (7.5–8 meters) long.
Incomplete Megaraptor remains were found in 1996 in Northwest Patagonia, Argentina, by paleontologist Fernando E. Novas. Novas named it in 1998.
The Cretaceous Period, in geologic time, is the last of the three periods of the Mesozoic Era.
The Cretaceous began 145.0 million years ago and ended 66 million years ago.
It followed the Jurassic Period and was succeeded by the Paleogene Period.