Unconstitutional – A Reservation Law Passed By The Tamil Nadu Legislative Assembly: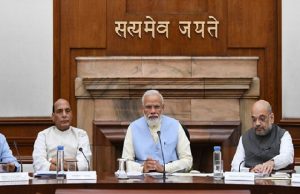 The Madras High Court has declared as unconstitutional a reservation law passed by the Tamil Nadu legislative Assembly.
The law envisaged providing 10.5% internal reservation to Vanniakula Kshatriya community, within the 20% earmarked for Most Backward Classes (MBCs) in education and public employment.
About Vanniakula Khastriya Reservation:
The reservation was provided under the State within the reservation for the Most Backward Classes and Denotified Communities Act, 2021.
Vanniakula Khastriya (including Vanniar, Vanniya, Vannia Gounder, Gounder or Kander, Padayachi, Palli and Agnikula Kshatriya) community.
The second Tamil Nadu Backward Commission in 1983, held that the population of Vanniakula Kshatriyas was found to be 13.01% of the State's total population.
Therefore, provision of 10.5% reservation to a community with a population of 13.01% could not be called disproportionate.
Grounds for Challenging the Bill:
The law was challenged on account of the law being passed just hours before the Model Code of Conduct (MCC) came into force in the State in February 2021.
Further, the petitioner argued that the enactment was politically motivated and that the law was passed hastily.
Tamil Nadu Government's Argument: In a democratic polity, an elected government cannot be barred from exercise of its power to make a policy to legislate any law during its tenure/until the last minute it holds power to meet the public opinion at large.
In 2020, a commission to collect quantifiable data on castes, communities and tribes in the State was established in chairmanship of retired High Court judge A. Kulasekaran within six months.
The Tamil Nadu government held that the commission did not submit any report within its tenure.
Further, asserting that the government was empowered to pass such a law for providing internal reservation, it referred to a 2007 enactment through which Backward Class Muslims in the State were being actively provided separate reservation.