Maharaja Bir Bikram Manikya Bahadur: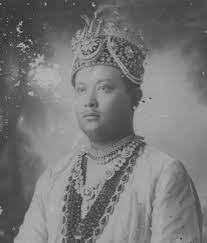 Prime Minister Narendra Modi paid homage to Maharaja Bir Bikram Manikya Bahadur on his 115th birth anniversary.
Maharaja Bir Bikram Manikya Bahadur : Birth: August 19, 1908.
Dynasty: Maniyaka
He was the last King of Tripura.
He was a prominent royal figure who played a pivotal role in the modernization and development of the princely state of Tripura.
His reign marked a transformative period in Tripura's history, characterized by progressive reforms and visionary initiatives.
He is popularly known as the Architect of Tripura due to his contribution to educational institutions.
He established the Maharaja Bir Bikram College (MBB College) in Agartala, Tripura.
Under his leadership, significant infrastructure projects were undertaken.
Road networks, bridges, and public buildings were constructed to enhance connectivity and elevate living standards across the state.
He built Tripura's first airport at Agartala.
He also set up one of the country's first municipalities.
He initiated land reforms, reserving vast tracks of land for Tripura's tribal
He established hospitals and medical facilities, ensuring accessible and quality medical services for the people of Tripura.