Maharaja Chhatrasal Convention Centre: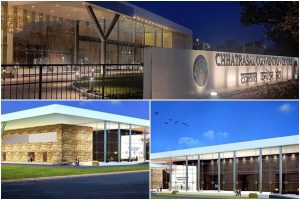 The Maharaja Chhatrasal Convention Centre has been inaugurated at Khajuraho, Madhya Pradesh.
The Convention Centre, named after the legendary Bundelkhand King Maharaja Chhatrasal, was built under the Swadesh Darshan Scheme of the Ministry of Tourism.
Born on 4th May 1649, to Champat Rai and Lal Kunwar, into the Bundela Rajput clan.
Medieval Indian warrior, fought against the Mughal Empire, and established his own kingdom in Bundelkhand.
Descendant of Rudra Pratap Singh of Orchha.
He started his struggle in 1671, and first captured Naugaon region of Chhatarpur district.
He fought for 50 years against Mughals and captured a large part of Bundelkhand with his seat of power at Panna.
Baji Rao, I helped Chhatrashal against the Mughals. He sent military aid against the Mughal force led by Muhammad Khan Bangash in 1728.
The Maratha Peshwa Baji Rao I's second wife Mastani was Chhatrasal's daughter.
Before his death, Chhatrasal transferred Mahoba and the surrounding area to Baji Rao I in return for his assistance against the Mughals.
His court housed several noted poets. His eulogies written by Kavi Bhushan, Lal Kavi, Bakhshi Hansaraj, and other court poets helped him gain lasting fame.
Swami Prannathji also guided him in political, social, and economic matters.
Swami Prannathji told Chhatrasal regarding the Diamond mines of Panna and thus helped him in strengthening his financial position.
The Chhatarpur town and its district in Madhya Pradesh are named after Chhatrasal.
Maharaja Chhatrasal Museum in Madhya Pradesh and the Chhatrasal Stadium in Delhi is also named after the Maharaja Chhatrasal.