Manis Mysteria : Species Of Pangolins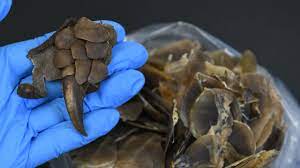 Adding to the eight known species of pangolins, scientists recently discovered a ninth variety, tentatively named "Manis mysteria".
Manis Mysteria is a newly discovered Pangolin species.
The newly identified pangolin species emerged from a detailed study of scales seized in China's Yunnan province in 2015 and 2019.
This new species is believed to have diverged from its Philippine and Malayan relatives approximately five million years ago.
Pangolins are mammals known for their distinctive appearance and protective scales.
They are often referred to as "scaly anteaters" due to their characteristic scales and their diet, which primarily consists of ants and termites.
Pangolins are found in parts of Africa and Asia and are known for their elusive nature and status as the most trafficked mammals in the world.
All pangolin species are listed on the International Union for Conservation of Nature (IUCN) Red List of Threatened Species.
The Indian pangolin, also called thick-tailed pangolin, is classified as Endangered under the IUCN Red List.