Exercise Jal Rahat: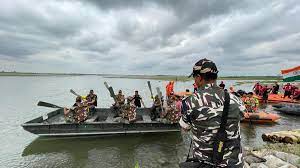 The Indian Army's Gajraj Corps, in collaboration with various disaster management groups, recently conducted a joint flood relief drill called 'Exercise Jal Rahat.'
The drill took place at Hagrama Bridge on the Manas River in Assam, aiming to enhance flood relief preparedness ahead of the monsoon season.
The exercise emphasized coordination among multiple agencies and focused on efficient rescue operations and the utilization of innovative strategies.
It aimed to strengthen the preparedness of flood relief efforts.
Recognizing the challenges posed by monsoon floods, the drill focused on improving coordination between different organizations involved in disaster response.
Alongside the Indian Army's Gajraj Corps, personnel from Sashastra Seema Bal (SSB), National Disaster Response Force (NDRF), State Disaster Response Force (SDRF), District Disaster Management Authority (DDMA), and police representatives participated in the exercise.