2023 India Ageing Report: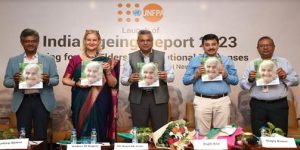 The United Nations Population Fund, India, has released the "2023 India Ageing Report," which projects a significant increase in the elderly population in India
Major Findings of the Report:
The population of people aged 80+ years is projected to grow by around 279% between 2022 and 2050.
By 2046 it is likely that the elderly population will have surpassed the population of children (aged 0 to 15 years) in the country
By 2050, the elderly population in India is expected to make up over 20% of the total population (The present share of elderly is about 10% in 2021 )
Among the Elderly More than 40% of the elderly in India are in the poorest wealth quintile, with over 18% having no income.
Life Expectancy Women, on average, have a longer life expectancy compared to men, with variations across states.
Among the Elderly The sex ratio among the elderly is increasing, indicating longer survival of women compared to men.
Old Age Poverty is gendered in old age, with older women more likely to be widowed, living alone, and dependent on family support.
The report suggests policies to address the feminization and ruralization of the elderly population, increase awareness of schemes for older persons, and promote in-situ ageing.