Matangini Hazra And Kanaklata Barua: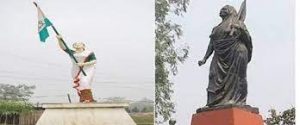 President Droupadi Murmu, during her address on the eve of Independence Day, paid tribute to women freedom fighters. She mentioned two notable figures: Matangini Hazra and Kanaklata Barua ,exemplified the spirit of India's struggle for independence and their contributions continue to be honoured and remembered.
Matangini Hazra:
Born in 1869 in a village near Tamluk, West Bengal, she was married at a young age and became widowed by 18.
After her husband's death, she dedicated herself to social causes and became deeply involved in the Nationalist movement, supporting Mahatma Gandhi's ideals.
Hazra participated in various protests, including the Civil Disobedience Movement and the Salt March.
During the Quit India Movement in 1942, at the age of 73, she led a large procession of around 6,000 protesters, advocating for the takeover of the Tamluk police station.
In the ensuing clash with British authorities, she was shot and killed, becoming a martyr for the cause of Indian independence.
Kanaklata Barua:
Kanaklata Barua was a young martyr of the Quit India Movement and a symbol of courage and determination.
At just 17 years old, she led the Mrityu Bahini, a group of freedom fighters, in an attempt to hoist the Tricolour at the Gohpur police station in Assam on September 20, 1942.
Despite her age, she was determined to lead the procession, and her brave efforts left a lasting impact.
During the confrontation with the police, she was shot and killed while holding onto the flag.
Her sacrifice inspired many during a time when women's involvement in the freedom struggle was gaining momentum. I
n 2020, a Coast Guard vessel was named after her as a tribute to her bravery.