Chenkurinji: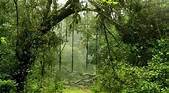 Saving Chenkurinji from climate change
The Shendurney Wildlife Sanctuary derives its name from Gluta travancorica, a species endemic to the Agasthyamala Biosphere Reserve known as 'Chenkurinji' in local parlance.
Shendurney Wildlife Sanctuary is a protected area in the Western Ghats, India, located in Kollam district of Kerala and comes under the control of Agasthyamalai Biosphere Reserve.
Properties:
Medicinal properties and are used to lower blood pressure and treat arthritis.
The heartwood is quite sturdy with deep red colour thus attracting the wood industry.
'Save Chenkurinji', is a campaign to be implemented in various areas to create awareness regarding its conservation.