Medicine From The Sky Project: Telangana: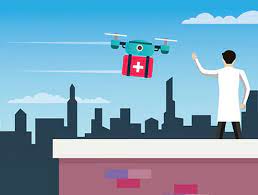 The Telangana government has selected 16 Primary Healthcare Centres (PHCs) for pilot testing the ambitious 'Medicine from the sky', the first-of-its-kind project.
The project involves the delivery of medicines through multiple drones.
The project is being launched following the approval granted by the Civil Aviation Ministry.
The Ministry has granted a conditional exemption to the Telangana Government from the Unmanned Aircraft System Rules 2021 for conducting experimental Beyond Visual Line of Sight (BVLOS) drone flights for delivery of vaccines.
The project would be launched in three waves starting with a pilot followed by mapping the route network for the operation of drones for delivering vaccine/medicine in the desired community health centres and PHCs.
Collaborators: Telangana government, World Economic Forum and HealthNet Global.
HealthNet Global is a private limited company that provides quality affordable health plans for individuals, families, Medicare and businesses.
Aim: To assess alternative logistics routes in providing safe, accurate and reliable pick up and delivery of health care items like medicines, Covid-19 vaccines, units of blood and other lifesaving equipment from the distribution centre to specific locations and back.