Mewar-Style Painting : Discovered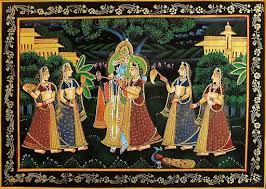 A Mewar-style Mahabharata painted by a Muslim was discovered in Udaipur, Rajasthan.
A trunk in a dingy room in Udaipur's City Palace had been sheltering thousands of miniature paintings of the Mahabharata, painted by Allah Baksh between 1680 and 1698.
In The Mahabharata by Baksh, they highlight how literature undergoes constant reinterpretation through centuries and millennia.
A 300-year-old text, in this Baksh's illustrations is not a Sanskrit Mahabharata but a Rajasthani one.
It is not painted by a Muslim but by a proponent of the Mewari school of thought, in such a manner that when one sees the paintings, and visualizes Mewari culture in its entirety.
Mewar-style painting 17th and 18th centuries.
Mewar painting is one of the most important schools of Indian miniature painting.
It is a school in the Rajasthani style

It developed in the Hindu principality of Mewar (Udaipur).