JIMEX 2023: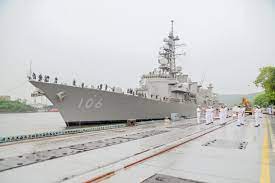 The Indian Navy is hosting the bilateral Japan-India Maritime Exercise 2023 (JIMEX 23), which takes place at Visakhapatnam.
JIMEX 2023 edition marks the 11th anniversary of JIMEX, since its inception in 2012.
This exercise will witness the participation of INS Delhi, INS Kamorta, fleet tanker INS Shakti, a submarine, maritime patrol aircraft P8I and Dornier, ship-borne helicopters and fighter aircraft.
The exercise will be conducted over six days in two phases.
A harbour Phase at Visakhapatnam comprising professional, sports and social interactions.
The two navies will jointly hone their war fighting skills at sea and enhance their interoperability through complex multi-discipline operations in the surface, sub-surface and air domains.
JIMEX 23 provides an opportunity to learn from each other's best practices and facilitates operational interactions between IN and JMSDF to foster mutual cooperation and reaffirm their shared commitment towards maritime security in the region.