Momentum 2.0 App: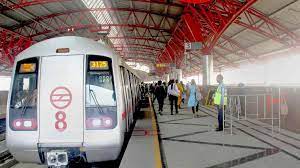 Delhi Metro will introduce the Momentum 2.0 app that will allow users to make a variety of purchases and schedule various services, including those for last-mile connectivity.
Momentum 2.0 app is India's first virtual shopping app for the metro.
It is launched by the Delhi Metro Rail Corporation (DMRC).
It will allow customers to make payments and schedule services, including those for last-mile connections.
It will also contain features such as rapid recharge of Delhi Metro's smart cards and smart payment choices for other utility services.
The app would also allow users to have digital lockers at metro stations.
Commuters can use this app to find bikes, e-rickshaws, cabs, and the schedules of feeder buses and cluster bus routes from Delhi Metro stations.
The app will also provide complete information on metro station infrastructure, such as the location and condition of gates, lifts, escalators, platforms, train scheduling, coach occupancy, and space availability.
The app will also provide information on shops, outlets, kiosks, and ATMs located at the stations.