International Booker Prize 2023: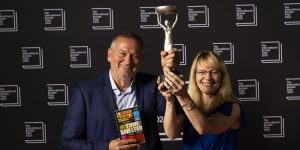 Georgi Gospodinov first Bulgarian author wins International Booker Prize:
Time Shelter, written by Georgi Gospodinov and translated into English by Angela Rodel, has won the International Booker Prize 2023, edging out six other novels on the shortlist.
This is the first time a novel originally published in Bulgarian has won the annual award, given to a work of fiction translated into English and published in the United Kingdom in the preceding year.
Last year, the prize went to Geetanjali Shree's Tomb of Sand, translated into English by Daisy Rockwell.
Georgi Gospodinov, the book's Bulgarian author, will share the prize of 50,000 British pounds, worth roughly $62,000, with Angela Rodel, who translated the novel into English.
They received the award at a ceremony in London.
A complex novel, "Time Shelter" centers on a psychiatrist who creates a clinic in Switzerland to help people with Alzheimer's disease.
The clinic includes spaces that recreate past eras in intricate detail to help patients retain their memories, and the experiment proves so successful that the idea is taken up far beyond the hospital's walls.