Harike Wetland: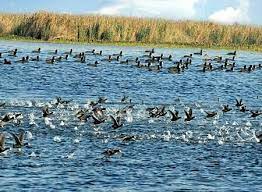 According to the recent water bird census, the Harike wetland witnessed a decline in migratory birds' arrival this year.
Harike wetland Sanctuary also locally known as "Hari-ke-Pattan" is one of the largest wetlands in northern India.
It is situated at the confluence of two major rivers of Punjab Sutlej and Beas.
Harike wetland came into existence in 1953 due to the construction of a barrage on River Sutlej.
It has been designated as one of the Ramsar sites in India.
This is a man-made, riverine wetland spreads across three districts of Punjab e., Tarn Taran, Ferozepur and Kapurthala.