MPLAD Scheme: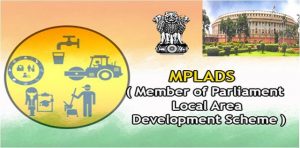 At a time when MPs have been asking for an increase in the MP Local Area Development Scheme (MPLADS) fund, the Union Finance Ministry has ordered revised rules, under which the interest that the fund accrues will be deposited in the Consolidated Fund of India.
The order of the Ministry dated April 11 was conveyed to the Rajya Sabha and the Lok Sabha only by the last week of April.
Each MP is allocated ₹5 crore annually under the scheme.
The MPLADS fund is released to the district authority and the MPs only have power to recommend development work.
The payment is also released by the designated district authority on completion of the work.
So far, the interest accrued on the fund used to be added to the MPLADS account and could be used for the development projects.
Opposition parties criticized the changed guidelines, arguing that the new order was in violation of the MPLADS guidelines of 2016.