Mutual Recognition Agreement (MRA) : India And Australia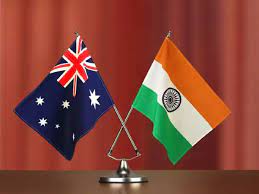 India and Australia have formed a joint working group to explore the possibility of a mutual recognition agreement (MRA) that would facilitate Indian whiskey makers' access to the Australian market.
Currently, Australian rules require whiskey to be matured for two years before being labelled as such, which poses a disadvantage for Indian liquor exporters who do not have a similar requirement.
Indian companies argue that spirits mature more quickly in India's warmer climate, and the two-year maturation rule restricts their access to a market with a significant Indian population and growth potential.
Mutual recognition agreement (MRA):
A Mutual Recognition Agreement (MRA) is a formal agreement between two or more countries or trading partners.
It allows them to recognize and accept each other's standards, regulations, and conformity assessment procedures for specific products or services.
By doing so, MRAs aim to facilitate trade and market access by reducing redundant testing, certification, and inspection requirements.
The formation of the group comes after Australia got duty-free access for its high-end wines under the Economic Cooperation and Partnership Agreement (ECTA), between India and Australia.