Chandra Shekhar Azad Birth Anniversary: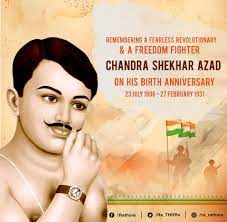 On July 23rd, we commemorate the birth anniversary of Chandra Shekhar Azad, an iconic and fearless freedom fighter of India.
He was Born in Bhabhra village ,now in Alirajpur District of Madhya Pradesh in 1906, Azad joined Mahatma Gandhi's non-cooperation movement at a young age of 15 and adopted the name "Azad" as a symbol of his defiance against British rule.
He became a prominent member of the Hindustan Socialist Republican Association (HSRA), a revolutionary group dedicated to armed struggle against the colonial government.
Azad was also involved in daring acts of resistance, including the Kakori train robbery.
He was Known for his organizational skills and mastery of disguise, he pledged to never be captured alive.
Tragically, he lost his life on February 27, 1931, in a fierce gunfight with the police.