Migration Partnership Agreement : India And Australia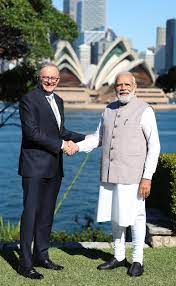 India and Australia signed a migration partnership agreement during Prime Minister Narendra Modi's visit to Australia.
It is aimed at promoting two-way exchange of students, graduates, researchers, and business people, and expanding people-to-people ties.
Their mobility will be facilitated through a new skilled pathway named MATES (Mobility Arrangement for Talented Early Professionals Scheme) specifically created for India.
India announced the opening of a consulate in Brisbane, adding to its existing consulates in Perth, Melbourne, and Sydney.
The India-Australia hydrogen task force was established, to explore opportunities in green hydrogen and address energy targets.