Namami Gange Programme: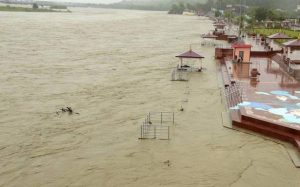 The 3rd edition of e-auction of prestigious and memorable gifts presented to Prime Minister of India Shri Narendra Modi is being held from 17th September to 7th October 2021 through the web portal https://pmmementos.gov.in.
The mementos include sports gear and equipment gifted to the Prime Minister by winners of the Tokyo 2020 Paralympic Games and the Tokyo 2020 Olympic Games.
Other interesting interesting artefacts includereplica of the Ayodhya Ram Mandir, Chardham, Rudraksh Convention Centre, models, sculptures, paintings, angavastras among others.
Proceeds from the e-Auction shall go to the NamamiGange Mission aimed at conserving and rejuvenating Ganga.
Narendra Modi is the first ever Prime Minister of India, who has decided to auction all the gifts he receives for a noble cause of conserving the lifeline of the country- the river Ganges through "NamamiGange".
'Namami Gange Programme', is an Integrated Conservation Mission, approved as 'Flagship Programme' by the Union Government in June 2014 with budget outlay of Rs.20,000 Crore to accomplish the twin objectives of effective abatement of pollution, conservation and rejuvenation of National River Ganga.