Tele-Law Programme.: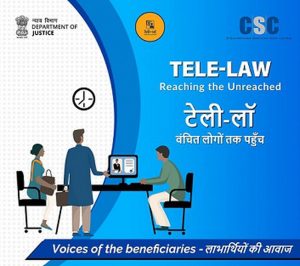 Justice Department commemorates the milestone of crossing 9 lakh beneficiaries under its Tele-Law programme.
The programme connects the disadvantaged and needy seeking legal advice from Panel Lawyers through e-interface platform available in Common Service Centres(CSC).
Tele–Law began its humble journey in 2017 by covering 170 districts in 11 States through 1800 CSCs. In 2019, 115 Aspirational Districts were added taking the number of CSCs to 29,860.
Tele-Law programme is presently operational in 633 districts (including 115 Aspirational Districts) across 34 States/UTs through a network of 50,000 CSCs.
Tele-Law saw a surge of 369% growth in number of beneficiaries seeking legal advice during last one year during the Covid Pandemic.
Even though Tele-law programme is technology driven, its success is dependent on the working of field functionaries comprising of Village Level Entrepreneurs(VLEs), Para Legal Volunteers (PLVs), State Coordinators and Panel Lawyers.