Great Indian Bustards : Important Points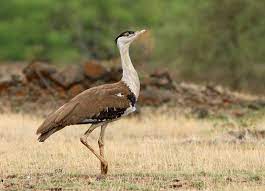 The Supreme Court of India had directed the governments of Rajasthan and Gujarat to ensure installation of bird-diverters on power lines before July 20, 2022.
The move is aimed at protecting the Great Indian Bustard (GIB), the state bird of Rajasthan, and the lesser floricans in the area.
Great Indian Bustards (GIB):
IUCN status: critically endangered.
Listed in Schedule I of the Indian Wildlife (Protection)Act, 1972 and in the CMS Convention and in Appendix I of CITES.
Identified as one of the species for the recovery programme under the Integrated Development of Wildlife Habitats of the Ministry of Environment and Forests.
Project Great Indian Bustard — state of Rajasthan — identifying and fencing off bustard breeding grounds in existing protected areas as well as provide secure breeding enclosures in areas outside protected areas.
Protected areas: Desert National Park Sanctuary — Rajasthan, Rollapadu Wildlife Sanctuary – Andhra Pradesh and Karera Wildlife Sanctuary– Madhya Pradesh.
Habitats in India: Only two districts in Rajasthan — Jaisalmer and Barmer — have a breeding GIB population in the wild.
The bird can also be found in very small numbers in Gujarat, Madhya Pradesh, Karnataka, Maharashtra and Andhra Pradesh.