NASA's Boeing Starliner Spacecraft: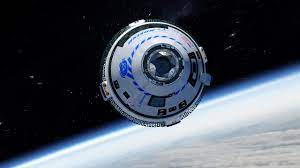 The launch of Boeing's uncrewed Starliner Orbital Flight Test-2 (OFT-2), which was supposed to lift off from the Space Launch Complex-41 on Cape Canaveral Space Force Station in Florida on Tuesday, has been postponed once again.
CST-100 Starliner:
The spacecraft, which is called the Crew Space Transportation-100 (CST-100) , is part of an uncrewed test flight to the International Space Station (ISS).
The mission is part of NASA's Commercial Crew Program. Its objective is to make access to space easier in terms of its cost, so that cargo and crew can be easily transported to and from the ISS, enabling greater scientific research.
The Starliner, which is supposed to carry more than 400 pounds of NASA cargo and crew supplies, will take roughly 24 hours to reach the ISS, after which it will dock there.
The spacecraft has been designed to accommodate seven passengers or a mix of crew and cargo for missions to low-Earth orbit.
The Starliner has an innovative, weldless structure and is reusable up to 10 times with a six-month turnaround time. It also features wireless internet and tablet technology for crew interfaces.