NASA's VIPER Mission: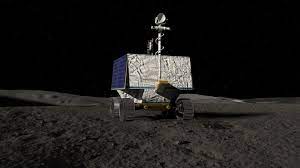 NASA has chosen a landing site for the Volatiles Investigating Polar Exploration Rover (VIPER).
The site is on the western edge of Nobile crater, near the lunar south pole. The crater was named after Italian polar explorer Umberto Nobile.
NASA, in July 2021, announced that it will launch its Volatiles Investigating Polar Exploration Rover, or VIPER, in 2023.
NASA is undertaking the mission to understand if it is possible for human life to sustain there, by using locally available resources.
About the mission:
VIPER is a mobile robot.
It is the first resource mapping mission on any other celestial body.
NASA's Commercial Lunar Payload Services (CLPS) will be providing the launch vehicle and lander for what's going to be a 100-day mission.
Objectives of the mission:
To explore the Moon's South Pole region.
Help create lunar resource maps.
Evaluate the concentration of water as well as other potential resources on its surface.
Significance of the mission:
VIPER's findings will inform "future landing sites under the Artemis program by helping to determine locations where water and other resources can be harvested" to sustain humans over extended stays.