NASA's X-57 Maxwell : Electric Aircraft Project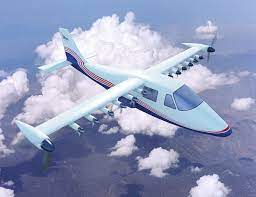 NASA's X-57 Maxwell all-electric aircraft project will soon conclude aircraft operational activities, with documentation and close-out activities continuing for several months afterwards.
X-57 Maxwell is an all-electric experimental aircraft designed to demonstrate multiple leading-edge technologies.
It is being designed and developed by NASA.
Goal is to demonstrate that an all-electric airplane can be more efficient, quieter and more environmentally friendly than airplanes powered by traditional gas piston engines.
It was made by modifying an Italian Texnam P2006T light aircraft to be powered by an electric propulsion system.
It will demonstrate the use of a high-power distributed electric propulsion system for use on an aircraft, including a 460-volt battery to power 14 motors and propellers.
The cruise motor controllers are critical components of the X-57's powertrain, as they convert the energy stored in the aircraft's lithium-ion batteries to power the motors that spin the electric propellers.
The wing, which is being reduced to 42% of the original size to significantly reduce drag, will feature wing-tip propellers to reduce the wing-tip vortex at cruise.