Dagmara Hydro-Electric Project,: Bihar: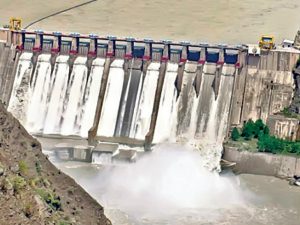 A Memorandum of Understanding (MoU) has been signed between National Hydro Power Corporation (NHPC) Limited and Bihar State Hydroelectric Power Corporation Limited (BSHPC) for Implementation of Dagmara Hydro-Electric Project, Supaul, Bihar.
NHPC is a Category-A Miniratna Company under the Ministry of Power, in the field of Hydropower.
It is the largest organization for hydropower development in India, currently, NHPC has 24 operational power stations with a total installed capacity of 7071 Mega Watt (MW).
The project is located near village Dagmara on the right bank and Simri on the left bank, about 22.5 km downstream of Bhimnagar barrage on Kosi river.
It is a Run-of-the-River scheme. Run-of-river hydro projects use the natural downward flow of rivers and microturbine generators to capture the kinetic energy carried by water.
Typically water is taken from the river at a high point and diverted to a channel, pipeline, or pressurized pipeline (or penstock).
The project will have the total capacity of generating 130 MW energy, in which 17 units of 7.65 MW will be installed for power generation.
The estimated cost of construction of this project is at Rs. 2478.24 crore.