Nasha Mukt Bharat Abhiyaan: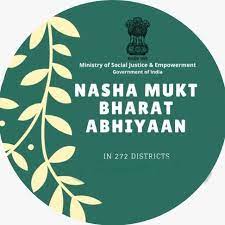 The Ministry of Social Justice and Empowerment has launched 'Nasha Mukt Bharat Abhiyaan' in 272 most vulnerable districts since August 2020 to address the problem of Drug Abuse among youth of India.
The Minister of State for Social Justice and Empowerment said, there has been a change in the pattern of substance abuse as reflected in the National survey of Extent, Pattern and Trends of Substance Use done in 2004 and in the Comprehensive National Survey on Extent and Pattern of Substance Use in India conducted in 2018.
He said, under 'Nasha Mukt Bharat Abhiyaan', special emphasis is laid on the participation of stakeholders such as women, children, educational institutions and civil society organizations.