National Centre For Disease Control: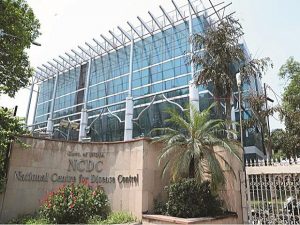 The Union Health Minister virtually laid the foundation stone for National Centre for Disease Control (NCDC) branches in Andhra Pradesh, Arunachal Pradesh, Kerala, Maharashtra, Tripura, and Uttar Pradesh.
The National Centre for Disease Control (NCDC), formerly National Institute of Communicable Diseases (NICD), had its origin as the Central Malaria Bureau, established at Kasauli (Himachal Pradesh) in 1909.
NICD was transformed into the National Centre for Disease Control (NCDC) with a larger mandate of controlling emerging and re-emerging diseases in 2009.
It is under the administrative control of the Director General of Health Services, Ministry of Health and Family Welfare, Govt. of India.
It functions as the nodal agency in the country for disease surveillance facilitating the prevention and control of communicable diseases.
In coordination with the State Governments, NCDC has the capacity and capability for disease surveillance, outbreak investigation, and rapid response to contain and combat outbreaks.
The Institute provides referral diagnostic services to individuals, communities, medical colleges, research institutions and state health directorates.
Headquarters: The Institute has its headquarters in Delhi.
It has eight branches located at Alwar (Rajasthan), Bengaluru (Karnataka), Kozikode (Kerela), Coonoor (Tamil Nadu), Jagdalpur (Chattisgarh), Patna (Bihar), Rajahmundry (Andhra Pradesh) and Varanasi (Uttar Pradesh).