National Digital Nagrik Forum: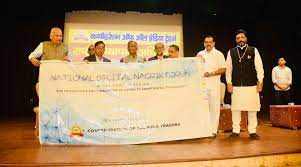 The Confederation of All India Traders (CAIT) Sunday announced the creation of a National Digital Nagrik Forum.
National Digital Nagrik Forum is an online platform that aims to advance the rights of traders and consumers and other sections of society, and shape policy to boost the digital trade economy.
The forum aims to raise awareness about digital regulations and help build the capacities of citizens to engage with innovation via expert sessions and instructional materials.
Objective is to shape policy discourse around digital economy trade in India with a view to contributing to the Government of India's vision of creating a trillion-dollar digital economy while maintaining an open, safe, trusted and accountable internet ecosystem.
It will conduct awareness camps, digital and physical dialogues and trainings, as well as targeted outreach to stakeholders from government, private sector and civil society.