National e-Governance Service Delivery Assessment Portal: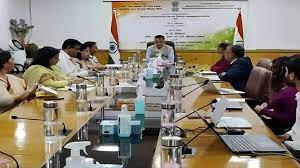 Secretary of Department of Administrative Reforms and Public Grievances launched the third edition of the National e-Governance Service Delivery Assessment (NeSDA) portal.
NeSDA portal launched in August 2018 was conceptualized with an overall objective to measure the depth and effectiveness of existing e-Governance service delivery mechanisms.
The Department has successfully released 2 editions of NeSDA study, viz., NeSDA 2019 and NeSDA 2021.
This framework is based on the Online Service Index (OSI) of UN eGovernment Survey.
The framework covers six sectors, Finance, Labour & Employment, Education, Local Government & Utilities, Social Welfare (including Agriculture & Health) and Environment (including Fire) sectors.
Improvement in the country's e-Governance landscape due to last 2 editions of NESDA study may be summarized in the following key take aways:

Increase in e-Service Delivery
Rise in use of Integrated / Centralized Portals for delivery of e-Services
Improvement across assessment parameter scores
The department undertakes NeSDA study biennially.
This study assesses States, Union Territories (UTs), and focus Central Ministries on the effectiveness of e-Governance service delivery.

NeSDA helps the respective governments improve their delivery of citizen centric services and shares best practices across the country for all States, UTs and Central Ministries to emulate.