National e-Governance Service Delivery Assessment 2021: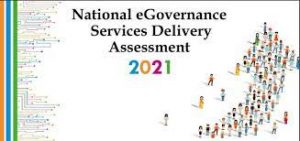 Ministry of Personnel, Public Grievances and Pensions releases the second edition of the National e-Governance Service Delivery Assessment 2021, NeSDA 2021.
J&K tops among UTs in e-Governance services delivery, saves around Rs 200 crore annually that was incurred in carriage of physical files during the Annual Durbar move between the two capital cities of Jammu and Srinagar.
NeSDA 2021 Assessment:
Among the Central Ministry Services Portals, scores have improved for 6 portals while among States and UTs, scores have improved for 28 of the State / UT Portals and for 22 of the State / UT Services Portals.
In the category of State/UT portal, among group A states- Kerala became a front runner and the progress was made by Tamil Nadu followed by Punjab.
Among group B states- Odisha being at top followed by Uttar Pradesh and Bihar.
Among Nort-Eastern states Nagaland, Meghalaya and Assam are at top.
Among UTs, J&K topped followed by A&N, Puducherry, Delhi and Chandigarh.
NeSDA 2021:
For Digital Government excellence, the National e-Governance Service Delivery Assessment (NeSDA) initiative has been undertaken by the Department of Administrative Reforms & Public Grievances (DARPG).
NeSDA was launched in August 2018, based on the Online Service Index (OSI) of UNDESA eGovernment Survey (UN E-Government Survey 2020 by the United Nations Department of Economic and Social Affairs, since 2001).
This is the second edition of NeSDA, the first edition was launched in 2019.
NeSDA Framework covers six sectors, viz. Finance, Labour & Employment, Education, Local Government & Utilities, Social Welfare (including Agriculture & Health) and Environment (including Fire) sectors.
The framework covers services under G2B (Government to Businesses) and G2C (Government to Citizens) segments, in these six sectors.
During NeSDA 2021, additional 6 mandatory services at State / UT level and 4 services at Central Ministry level would be evaluated.
The NeSDA framework primarily assessed all the service portals (State/UT and Central Ministry service portals) on 7 key parameters. In NeSDA 2021, the framework has been enhanced to include additional 6 parameters.
The portals assessed were classified into one of two categories.

State/UT/Central Ministry Portal, the designated portal of the respective government that provides a single window access to information and service links, is the first category.
The second category comprises of the State/UT/Central Ministry Services Portals which focus on the digital delivery of services and provide service-related information.