National Press Day 2023: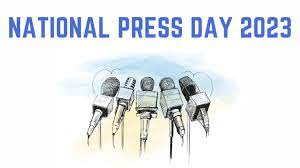 The day is observed on 16th November every year to commemorate a free and responsible press.
It is observed in honour of the Press Council of India (PCI).
Press Council of India (PCI) was established by the Parliament On 4 July 1966.
The day is meant to mark the presence of the free and responsible press in India.
In the year 1956, the First Press Commission decided to form a body bestowed with statutory authority, meant to fulfill the responsibility of maintaining the ethics of journalism.
The National Press Day has been celebrated ever since on 16th November, every year to commemorate the establishment of the council.
Various seminars and workshops are organized to raise multiple issues faced by the Indian press.