Section 124A (sedition) Of The Indian Penal Code: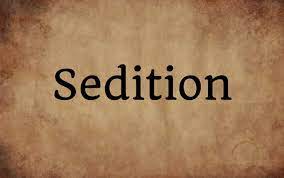 The Supreme Court suspended pending criminal trials and court proceedings under Section 124A (sedition) of the Indian Penal Code, while allowing the Union of India to reconsider the British-era law.
All pending trials, appeals and proceedings with respect to the charge framed under Section 124A of the IPC be kept in abeyance," a three-judge Bench ordered.
It was argued in court that nearly 13,000 people were already in jail under the sedition provision.
The court also made it clear that it "hopes and expects" the Centre and States to restrain from registering FIRs, continuing investigations or take coercive measures under Section 124A while the "reconsideration" of the colonial provision was on.
Adding a fail-safe to protect civil liberties against any future misuse of Section 124A while it was under the Union's microscope, the court ordered that the persons accused in fresh cases were free to approach courts.
The court, meanwhile, gave the Union of India liberty to issue a directive to States and authorities to prevent the continued misuse of the sedition law.