National Tourism Day 2023: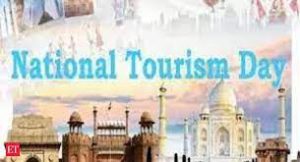 National Tourism Day is celebrated every year on January 25 to recognize India's natural beauty and raise awareness about the importance of tourism for the Indian economy.
India is one of the top tourist attractions for visitors from all around the globe. Hence tourism holds so much importance in India, both in cultural and economic terms.
India provides a diverse portfolio of tourism, including eco-tourism, cruises, business, sports, educational, rural, and medical travel.
The Ministry of Tourism in India is responsible for formulating the country's national policies for developing and promoting tourism.
It also collaborates with local, national, and international organisations.
India ranks 6th according to World Travel and Tourism Council in terms of Travel & Tourism total contribution to GDP in 2021.
Travel & Tourism contributed 5.8% to GDP and the sector created 32.1 million jobs, which is equivalent to 6.9% of total jobs in 2021.